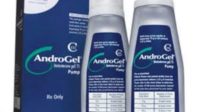 $140 Million Awarded In 2nd Androgel User Trial
The second Androgel lawsuit has concluded with a jury in Chicago awarding Jeffrey Konrad $140 Million in punitive damages and $140,000.00 for actual damages for injuries incurred from Androgel use. Mr. Konrad suffered a heart attack after several months of Androgel use. The jury found in favor of Mr. Konrad on claims of negligence, intentional misrepresentation and misrepresentation by concealment.
The trial started on September 18, 2017 before the Honorable Matthew Kennelly. The jury started deliberation on October 3 and reached a decision on October 5 after two days of deliberation.
This is the second damaging jury decision involving Androgel and AbbVie Inc. In the Mitchell case the jury awarded $150 Million to the Androgel user. Based on the two jury decisions it appears that the marketing efforts of AbbVie Inc. is a substantial issue in Androgel Lawsuits.
Thousands of former Androgel users have alleged that their use of Androgel caused them to have heart attacks, strokes, and pulmonary embolisms. The next Androgel trial is scheduled for January, 2018.
Androgel Lawsuit Information – We Can Help Androgel Users
Many clients contact us not knowing if their heart attack, stroke, or pulmonary embolism was caused by their use of Androgel. If you are in a similar situation contact us with your questions.  If you select us to represent you we will thoroughly evaluate your case, assess the strengths and weakness and let you know the best course of action. Call us at 1-800-745-4050.