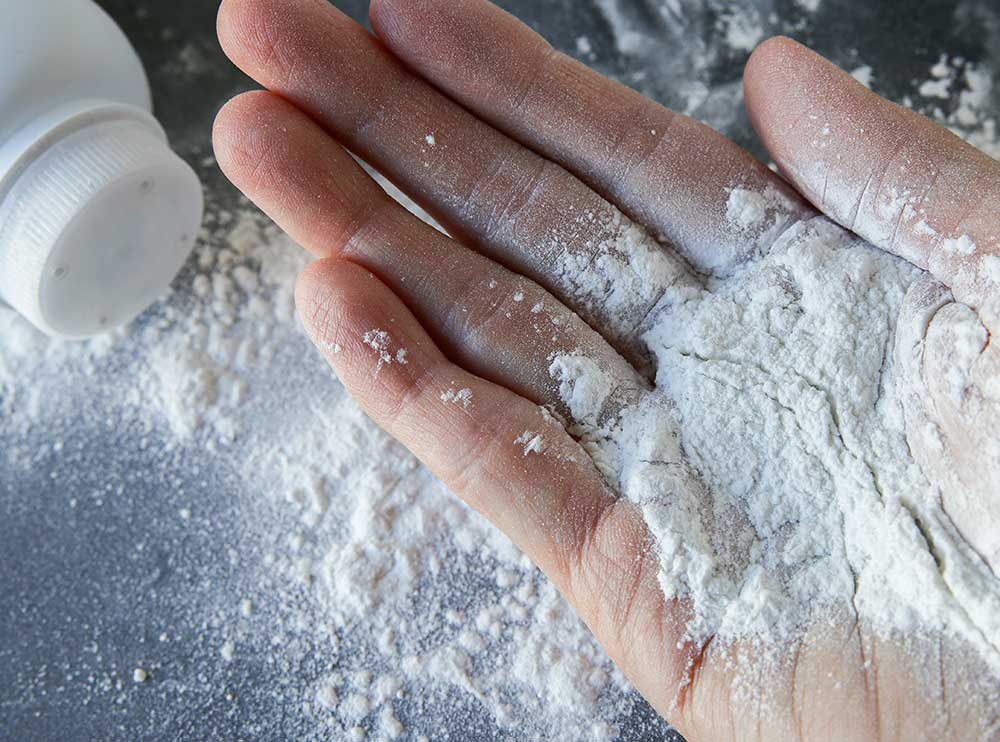 A recent verdict finding manufacturer fault for cancer-causing asbestos in talc products has culminated with an order for Johnson & Johnson and its supplier, Imerys, to pay $80 million in punitive damages – on top of compensatory damages of $37 million for plaintiff investment banker and his wife –  to make for a combined total verdict of $117 million.
The jury ruled that both companies were aware for years their talc contained traces of asbestos – a carcinogen that's the only known cause of a rare terminal cancer called mesothelioma.
This verdict in Lanzo v. Cyprus Amex Minerals Co. – which focused on J&J's Shower-to-Shower product – is important not just for the sheer dollar amount, but also for the fact it is the second such case nationally to go to trial on claims that J&J's talc products contained harmful asbestos – a fact that was concealed from consumers. Some legal analysts are calling this a "precedent-setting case for U.S. talc litigation." One of plaintiff's lawyers was quoted by Bloomberg News as saying this verdict sends a clear message to halt sales of this product, "because it's dangerous and can kill people."
J&J is fighting some 6,600 asbestos in talc injury lawsuits alleging use of its products caused ovarian cancer in unsuspecting consumers. This verdict and the subsequent damages awarded  in this case may open up a whole new front of litigation for plaintiffs who allege harm caused by asbestos in talc. The outcome serves not only tarnish the brand, but it's likely spur more asbestos in talc lawsuits in the months to come. 
Officials with Imerys said the outcome of this case doesn't change their position that its own "rigorous" testing for asbestos in the talc it supplied to J&J meant that the talc it supplied posed no threat to consumers. Both companies say they stand firmly behind the safety of their products and intend to appeal.
Johnson & Johnson won the first mesothelioma talc case, tried in California late last year, when jurors found the company's talc product wasn't responsible for causing the cancer of a 61-year-old female plaintiff. In a separate case against Colgate-Palmolive Co., defendant agreed to settle with the Pennsylvania woman who alleged mesothelioma as a result of using their product.
In the most recent case, the punitive damages were awarded after jurors heard substantial evidence the companies were aware of the asbestos in talc – and had been for some 40 years. Yet they allegedly hid this connection to shield the profits drawn in by their line of baby products. Evidence was presented that a scientist for J&J issued a written memo warning to company officials in 1974 that the asbestos in talc products made by the firm posed a "severe health hazard."
Meanwhile, both companies vehemently denied their products every contained asbestos, arguing their own internal testing showed no trace of the product.
At the time plaintiff was exposed to this product, he was just 2-years-old. He's now 46-years-old.
Jurors in the case assessed J&J to be 70 percent liable for plaintiff's compensatory damages, while Imerys is liable for 30 percent.
Our Utah product liability attorneys are committed to helping those diagnosed with mesothelioma and other forms of cancer with a suspected causal link to asbestos in talc products.
Contact the James Esparza Law Group in Salt Lake City, Utah for more information on filing a talcum powder injury lawsuit. Call (800) 745-4050.
Additional Resources:
New Jersey Jury Slams Johnson & Johnson, Imerys With $80M Punitive Talc Powder Verdict, April 11, 2018, By David Siegel, Courtroom View Network
More Blog Entries:
Report: Asbestos Found in Talc for Children's Makeup, March 16, 2018, Asbestos in Talc Injury Attorney Utah Blog